---
On August 18th, Innovation Initiatives Ontario North (IION) presented Rynz Innovative Tooling with the 2017 Award of Excellence at the graduation celebration for the IION-Youth Entrepreneurship Placement Program.
The IION Innovation Award is given to an outstanding company or individual that has a significant impact in the region, developing innovative techniques and investing in innovative approaches, which leads to economic growth.
Rynz Innovative is the 2017 recipient of the IION Innovation Award. Rynz Innovative is located in Seguin, at the Airport Industrial Park and is operating as an innovative full-service company where they focus on providing clients with a "turnkey solution" for their projects. Rynz Innovative is a plastic injection moulding facility that takes clients projects from ideation to completion entirely in house. Rynz Innovative is able to produce in house 3D designs, tooling and moulds for prototyping or production runs.
Rayner Haupt, owner of Rynz Innovative, believes in putting the customer first and is constantly looking for ways to innovate within the company to improve his efficiencies. He is continuously investing in new equipment and automating his existing equipment to allow for faster production to keep up with increasing demand.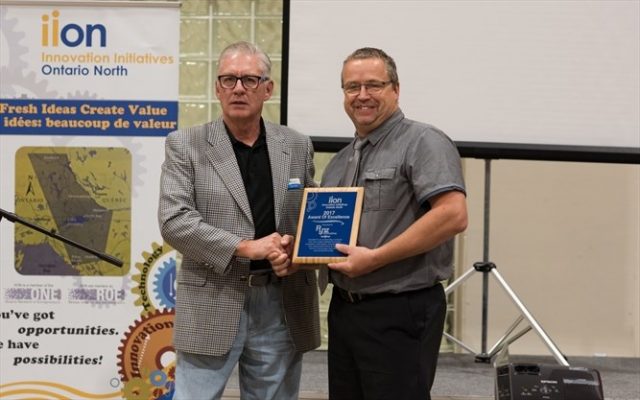 IION's first interaction with Rynz Innovative was in March of this year, since that time, they have hired new employees and are looking at expanding the facility to keep up with their increasing demand. They have received funding through two of IION's in-house funding programs; the Step Forward Entrepreneurs Program, which assisted in the purchase of a new modular low production mould which streamlined their prototype modular system and increased their efficiency, and the Youth Entrepreneurship Placement Program which provided a wage subsidy to hire a youth for 16-weeks to assist with the company's marketing, administration and accounting duties.
IION is a Regional Innovation Centre and a member of the Ontario Network of Entrepreneurs with a vision to be the leading regional champion for the adoption and acceleration of innovation and technology. IION works to improve long term economic growth by collaborating with industry, academic and government partners.
---